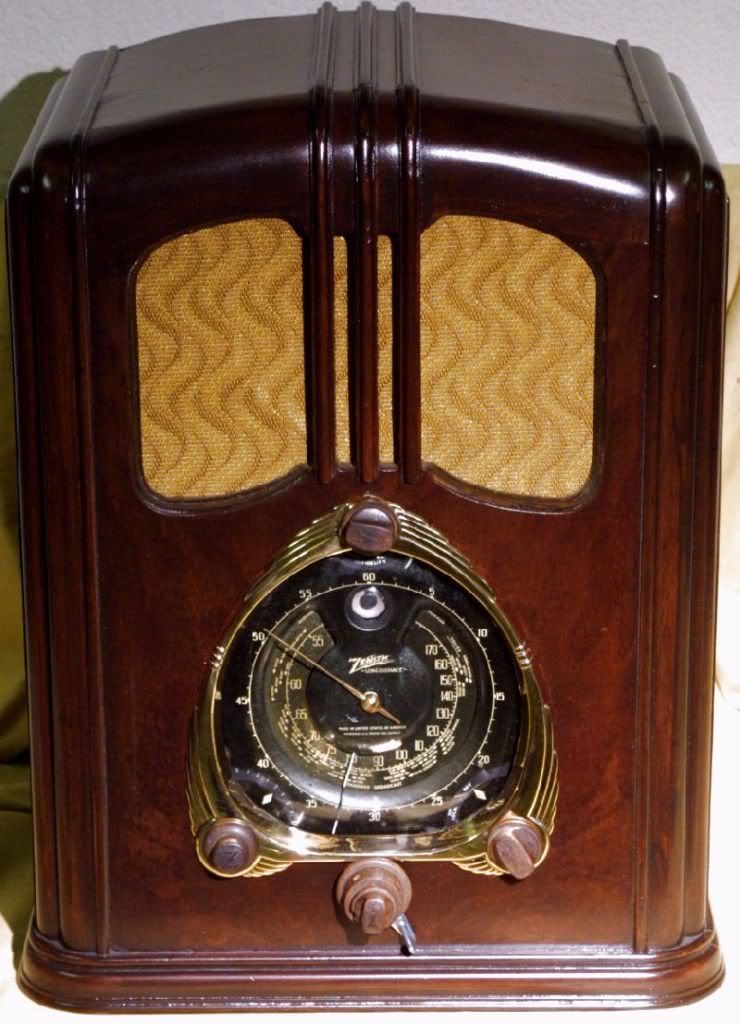 This is Radio Vickers in the new Radio Vickers format. These are just songs I'm listening to at the moment. It might be a Finnish Thrash Metal song, a pop song or some piece of jazz. And you can listen along. I also have three bands, there videos are scatter hither and yon around my site. If you could give one or two of them and eye and an ear, I'd be ever so grateful.
Well, I've been transferring my digital transfers back onto my computer from CD's that I made about 10 years ago. Some of these albums, I don't even remember transferring in the first place. Mostly, they're in much better shape that I remember them being in. Or perhaps my hearing has deteriorated so much in the past decade, that they just sound better because I can no longer hear the imperfections. They have to come off the CD's I've been storing them on because most of my recordable CD's from even five years ago, don't play anymore. The info on the data discs I made is not accessible. If anyone else out there has stuff on recordable CD's, I'd advise them to back it up now.
When you're someone who has a lot of music, and admittedly I do, you get a lot of requests from people for specific songs or albums. One of the most requested albums, over the years, has been Does Not Exist by Perth County Conspiracy. I didn't own this album till about 10 years ago, when I transferred it. In fact, I think I had to purchase three copies to get enough decent tracks to not pull my hair out every time I listened to it. Midnight Hour was particularly frustrating. It started very quietly and then builds. Getting the clicks out of that was fucking horrible. And then, I had some distortion. Now, ten years later, I have a software program that takes them out in 30 seconds with no distortion and better than I could do it by hand.
This truly is a terrific album. A little hippy dippy perhaps, (after-all, these guys lived together on a commune) but good singing, good playing and catchy tunes. For all those people who have been bugging me over the years for this...here it is.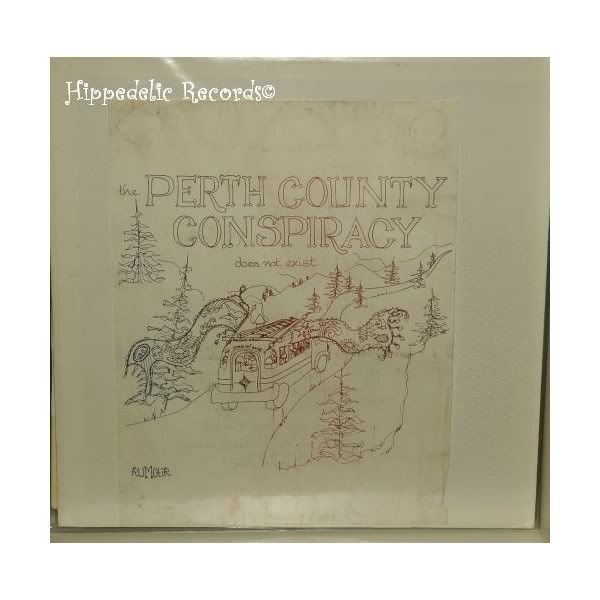 Write-up on Perth County from this great site:
While the disadvantages of major labels, their questionable output and oft-myopic philosophy has been lamented in these pages over and over, the advantages of these maligned oligarchies should not be denied. If the cogs are allowed to interlock as desired it's obviously preferrable for all people involved to have a record created with a big, powerful corporation backing it, rather than just what available money could afford. OK, so these cases are rare, but they do exist.
1-1 Midnight Hour
Such generous thoughts cross my mind while listening to the debut LP by Canada's PERTH COUNTY CONSPIRACY. This is because the album is a triumph of realization, more than anything else. I don't know what the PCC guys think of it now -- maybe they hate it, a lot of musicians hate their old records -- but it seems to me that whatever their ambitions were back in 1970, they couldn't have been far removed from the sounds rising from the finished grooves. This is an expensive production, with one of the most attractive soundscapes I have ever come across within the genre, which could be described as Progessive Hippie Folkpsych. Whatever studio time the PCC requested they had it, and other resources at Toronto Sound were obviously provided as needed. Even the artwork, a greatlooking gatefold with booklet insert, shows a good-natured record company at work. Of course, this isn't just any major label we're talking about, but Columbia Canada, whose batting average in the early 1970s is rivaled only by that of the 1992 Toronto Blue Jays; It's All Meat, Jarvis St Revue, Ptarmigan are just a few examples of the label's remarkable output at the time (see Fraser & Debolt review below for yet another).
1-2 Epistle of the Borderliner
However, "Does Not Exist" differs from these LPs in not being a 3-figure rarity, and looking around it appears that Perth County Conspiracy were a near-household name in Canada back in the daze. Maybe this is also the reason why they haven't quite entered the psychedelic pantheon yet, especially outside their homeland. I haven't heard anything from their subsequent and rather confused discography, but this first outing alone should warrant a chair at a table within shouting distance from the musical gods.
1-3 Easy Rider
The Perth County Conspiracy band was formed in Stratford, Ontario as a typical hippie-era art/folk music commune; plenty of people involved, wives, brothers, kids and maybe a couple of shaggy dogs too. Other than contemporary folk their inclination was towards poetry and the theatre, and indeed one of the key guys ended up as a famous actor later on. Doesn't take an oracle to see that coming as literary references and ambitions are all over this LP, including recitations of Dylan Thomas and Shakespeare, the latter being a particular obsession of the band and the area they came from (as the name Stratford implies). Now if this sounds just a wee bit scary, I'm prepared to deliver the first of a handful testimonies where my opinion may differ from that of the typical 1960s/70s psych admirer. This is it: the PCC recitations are daring and pretentious, but I think they work. Yep.
1-4 Truth & Fantasy
Two reasons why: the readings are done in a skillful manner by guys who obviously understand the difficulties involved. They don't play it safe like the sherry-sipping gentleman heard on the Moody Blues albums, but dive head first into the alliterations, rhythms and turns of classic poetry. The opening Dylan Thomas incantation is especially successful, establishing a self-assured, literary tone for the album that thousands of progressive bands could only dream of. The other reason it works is just this; that the band is able to carry that tone into the actual music, which is neither classical nor pretentious, but highly appealing folkpsych and singer/songwriter with a definite 1970 stamp.
1-5 don't You Feel Fine
So initially we're thrown between the exhilarating poetry of Thomas and an equally exhilarating tune right out of the CSNY/Incredible String Band intersection where Perth County resides. As with many Canadian bands there is an explicit (and physical -- ex-Spikedrivers member Richard Keelan was originally from Michigan) connection to the USA, linking the perceived wrongs of their own country (war, violence, pollution, etc) with those of the yankees. This makes for a rather complex trip that perhaps could only be understood then and there; in any event we are told that it is the "Americanadian way". But again like many of their maple leaf peers, there is also a strong presence of the British music scene, messieurs Heron & Williamson in particular. While I think the PCC are a bit more successful than the ISB in their cross-cultural ambitions, mainly because they don't automatically assume themselves to be geniuses, one can't deny that the avant-literary folk path that the String Band carved out from 1966 onwards was followed by thousands of bands around the world. I've also seen "Does Not Exist" compared to Pearls Before Swine, and it's a useful reference that captures the delicate and atmospheric nature of its best tracks.
1-6 You Have the Power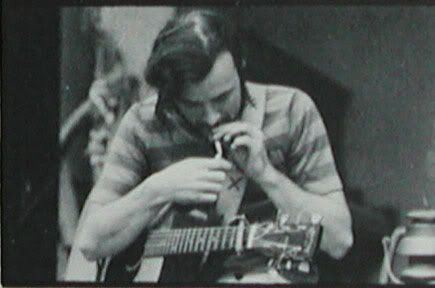 2-1 Keeper Of the Keys
The opening mix of half-sung poetry and hippie anthem is followed by a Brit-sounding piano-led downer trip, recalling Nick Drake and Isolation but given a nice edge by Cedric Smith, whose acidic vocals is one of the album's many strengths. We are then transported halfway across the world, out into the Californian desert where a deftly understated tribute to "Easy Rider" -- the movie -- rises from the ground like an evening campfire. Richard Keelan's vocals are more of a Steven Stills type introspection, and the difference in style between the two main guys is cleverly juxtaposed throughout the LP. The redneck gunshot at the end of "Easy Rider" is used as a bridge into a highly theatrical spoken bit, full of convoluted anti-war propaganda; graphic and unpleasant but also ironic and multilayered. This in turn works as an introduction to "Truth And Fantasy", a suite of superb folkpsych mixed with short theatrical interludes. Labyrinthine? Confusing? Well, that's what the LP is like -- trips opening within trips, yet constantly moving forward. This is also why I consider this a more genuinely psychedelic album than most of the artifacts of its genre. Hey, there's nothing wrong with being pretentious as long as you pull it off. Of course, almost none of the prog-folkers do, but on this LP the Perth County Conspiracy do with flying colors, God bless 'em.
2-2 Lady of the Country
I won't detail the other tracks that round out the whopping 26 minutes of side 1, except to say that they're marvels of production value, vocal harmonies and elaborate arrangements. Over on side 2 we are first treated to the beautiful folkpsych of "Keeper Of The Keys" which is a good pick to play for a friend you want to convince of the album's greatness; in fact you have to be dead from the neck up not to worship this tune. This is followed by the album's one spot of weakness, the well-intended, charming, and ultimately hopeless "Listen To The Kids". A merger of children's poems and a nice little CSN:ish tune, it's not the sugary Graham Nash nightmare you might envision but it's not terribly successful either; the contrast with the very grownup recitation that follows is just too sharp. As the LP as a whole clocks in at no less than 53 minutes this track could have been removed, leaving you still with an unusually generous playtime. Ah, what the hell. Flaws are part of the psychedelic world too. The Orwellian uptempo excursion of "Trouble On The Farm" provides a welcome change of mood, before the Conspiracy gears up for the grand finale. First there's a bit of Shakespeare with an unexpected loungey backing, then we are treated to the "The Dancer" which parallels the introspective Albion mood of the second track on side 1, creating a neat arch-like structure for the album as a whole.
2-3 Listen to the Kids
These are just preparations for the awesome acid folk epic that closes the LP in a way better than anyone could hope for. "Crucifixation Cartoon" is simply stunning, a trip deep into the cranium that reminds me of that long monster track on the Search Party LP, and proof that guilt trip loner anthems are not exclusively the domain of local mid-70s private press albums; at least not if your record label is Columbia Canada. This is where it's at, daddy-o:
There's a cross on every tree
When you're learning to be free
which may recall the Poet's immortal:
The trees in our gaze
Will show us the love that we bring them
2-4 Trouble on the Farm
A C.O.B-like mood emerges with the inventive use of a "ukelin" to provide the lead as this masterpiece of melancholy draws to its inevitable close. The album's end signals the end of an almost physical experience, and I must admit that there really aren't that many LPs around that leave me in such a state of involvement as "Does Not Exist"; not just once, but pretty much every time I hear it. Helped in no small part by the Toronto money behind them it seems the Perth County Conspiracy, on their first album no less, managed to provide us with a glimpse of an absolute music beyond the veil, something not many groups have done. I realize that to an avid fan of "crude garage fuzz" or "screaming basement psych" this LP may come off as pretentious and foppish, but to anyone with at least half an ear for transcendental folkpsych it is certain to delight, and maybe surprise too, given its non-rare nature.
2-5 &6 Excerpt from "As You Like It" – The Dancer
I was tempted to take a point off for these high-fallooting Canucks referring to their lyric booklet as a "libretto" but hell, I'll give them some leeway on that one too. Best folk-psych LP outta Canada so far! As mentioned before their discography is a bit confusing, and there is in fact another LP by them also titled "Does Not Exist", due to the band's strange idea to make these words part of their moniker -- as if it wasn't unwieldy enough already. So be sure to check that the label is Columbia before adding "Does Not Exist" to your collection. The band followed this with a live LP, also on Columbia, before moving on to private labels where they made a handful more LPs during the 1970s. I hear they recently reformed for local gigs.
2-7 Crucifixion Cartoon
Perth County's Wiki page is here:
A wonderful collection of Photos of the band:
That's all for today. This is Radio Vickers signing off.
NOW! If you could watch a couple of our humble videos, we would love you to death.
Death of The Author Brigade – I Am Your Waitress – A song for the working masses. Especially the working masses employed in the catering business.
Death of the Author Brigade – The Boy Next Door – A 60's tinged classic.
Death of the Author Brigade – Simple Song – Kat will break your heart.
Don't Tell Betsy – The beginning and end of all Zombie love songs.
Don't Tell Betsy – On My Mind – A Stonsey-sexy rocker.
Andy kim, radio Vickers, amour, baron Longfellow, 1980, Canadian, sugar sugar, the archies, prisoner by design, in the night machine, I'm gonna need a miracle tonight